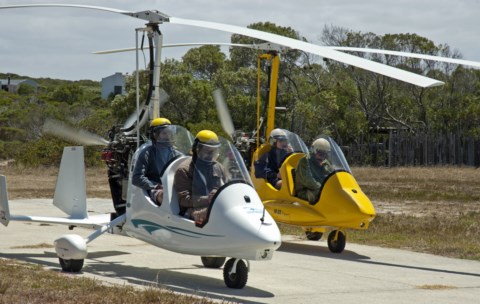 You don't own a gyrocopter – you have a deep and meaningful relationship with it. And it's a damn good investment.
What was once considered an activity only practised by "those on the fringes of aviation lunacy" (a term once used by an aviation journo in the 1990's when referring to gyro pilots) has grown to probably the fastest growing sector of sport aviation. Gyro pilots are still crazy, but this time absolutely crazy about their gyroplanes which turns their dreams of reaching for the skies into reality. If you could only ask former Royal Air Force Wing Commander Ken Wallis and engineer extraordinaire who built and flew Little Nellie, in the James Bond Movie, You only Live Twice. At the age of 95, this nonagenarian was still trying to beat the gyro air speed record…
Gyroplanes, or more commonly gyrocopters, had a rather unmerited bad rep initially.  At best, they were called quirky.  Thanks to modern technology the design has stayed the same but refinement, engine capabilities and composite material make it a far safer and more powerful machine.
The gyro has taken its rightful place in mainstream aviation.
Butch Brown, the sole importer in sub Saharan Africa for the Italian manufactured Magni brand says, "At first gyros were not readily accepted and considered dangerous. This perception changed with time as people started understanding what the modern sport gyro was all about. They are very safe flying machines when flown within their envelope by competent pilots."
He says, gyros are predominantly bought by recreational pilots and our climate is perfect for open cockpit flying.  They are not just boys' toys though – they are used extensively commercially for dispersing sterilised coddling moths (really) into crops as they can fly low enough over the fields.
The gyrocopter is a hybrid between a fixed wing and helicopter and officially called a gyroplane.  Considered one of the safest forms of aviation, it cannot stall or spin like an aeroplane or micro light aircraft when flying at low airspeeds and requires a significantly smaller area to land in.  The obvious question is how and why and sometimes a little technology is reassuring before leaving terra firma. So briefly: The gyro is in a permanent state of autorotation which means that the workload to fly it and land it is much reduced compared to a helicopter. The gyrocopter's engine is not connected to the rotors, instead the airflow passing through the rotors keeps them turning – so there is no slowing down of the rotors even if the engine fails.
Add the great all round visibility, the relatively low cost of operation and the ease of flying these incredible machines and it is obvious why more and more pilots are converting to gyrocopters and wannabe aerial junkies are steadily taking up this sport.
For between R820 000 and R1.2million a pop you can buy yourself a new Magni, the Rolls Royce of gyroplanes. To take off you need (liquidity aside) a National Pilot's Licence (NPL- Gyroplane) which involves theoretical instruction and 30-40 hours flying – 15 dual and the balance solo.
The good news is that for a thousand South African 'Ront' of unleaded petrol you can travel 4-500 kilomtere (about 500km between fill ups and a Jerry can for emergencies). The Magni M22 Voyager has side compartments for luggage.  Although you need a short runway to take off you land like a parachutist – in pilot talk –  a zero forward roll landing. Which means technically you can land almost anywhere – legally you should have permission. Insurance won't pay if you pop into a wine estate for the afternoon and crash during take-off or landing. Which is unlikely, because another great advantage gyros have over other aircraft is their inability to stall, or put more bluntly, fall out of the sky.
In the unlikely event of an engine problem the autorotating rotor blades becomes your parachute.  Pilot Jean Tresfon says, 'the machine will float to the ground like a sycamore seed.' Not to sound like a helicopter-damning soapboxer, a helicopter will take a lot more effort to get on the ground safely. Gyros can do 90% of what helicopters can do, has fewer moving parts (a good thing) and are far easier on the pocket.
So what's it like to fly?  Tucked into the open Magni M16 tandem-trainer gyrocopter, helmeted and goggled one feels like the hero in the novel Biggles buys the sky. In a dual control gyro (in order to experience actually flying) you are the rear gunner so to speak.  Initially, alarmingly, the joystick between your knees moves around as if some airborne poltergeist is at work but the distraction is soon forgotten. A 'Romeo Delta Lima, rolling 02….' later and it's a short takeoff before the sky is the playground.  Once at altitude an unexpected and rather welcome temperature inversion ensured that despite being a winters' day it was pleasantly warm during the two hour flight.
There can be few more magnificent routes than round the cape peninsula in a car. From the air it is superlative.  The Atlantic seaboard's magnificent mansions shrink to insignificance and you are smoothly at one with the mountain, sea and sky.
Thanks to their permanently auto-rotating blades, gyrocopters are legendary in handling turbulence – the rotor acting like a massive gyroscope, in gusty conditions and you don't get tossed about.  Proof is in the pudding and when we flew over Constantiaberg and practically high-fived a group of hikers at the top of the mountain, the turbulence on the lee side of the mountain did make our Little Nellie have a bit of a wobble.  It produced a combination of delightful adrenaline and stomach stopping fear.  Not to mention an excuse to grab onto the 6.4 eye candy flying the gyro (just for a few seconds).
At a cruising speed of 70-90mph hour and a maximum of 125mph the gyro can be a leisurely aerial meander.  From Blouberg to Stellenbosch the circuitous route we had a close look at the surfers in huge swell at Outer Kom, hovered above a mother southern right whale and her calf in False Bay and an executed a missile like touch landing in a fantasy of yellow Canolas in Stellenbosch.
A short stint at the controls was surprisingly simple – move the joystick left or right (and back a little as it dips if you turn) and it's that simple. Playing with the controls like an excited child meant the gyro swayed back to the airport like an intoxicated pedestrian but Tresfon had it all under control and took over for the effortless landing at the airfield
After tenderly wiping down the gyro like a new born infant and 'dressing it in its pj's, pilot and professional photographer, Jean Tresfon posts on facebook. Awesome flight around the peninsula on Saturday morning. Blouberg to Scarborough, then over Red Hill to Simonstown, followed the False Bay coastline all the way to the Strand before finally returning home via Durbanville. Massive swells along the Atlantic Seaboard, Dungeons and Sunset firing, also huge at Outer Kom. Crayfish factory with giant sets rolling— with David Lehr and Kathy Malherbe.
One short baptism of flight you will be a devotee – in fact a full blown gyrophiliac
For More information contact Magni Gyro South Africa
http://www.magnigyro.co.za/contact.htmlT
011 753 2261