"Boy have I got a great train set" is how Rohan Vos describes his seven steam locomotives and 95 rolling carriages which make up Rovos rail –  otherwise known as the Pride of Africa.   A guiless understatement describing one of the biggest private train collections in the world. Vos is passionate about his trains and even more so about his passengers. A self -confessed 'railfan' his vintage train hobby turned into a business when permission to run a private train was granted by South African Railways in 1986.
So what's it like to spend 51 hours meandering 1 600km on what is pupported to be the most luxurious train in the world?  The words of Robert Louis Stevenson come to mind when describing the journey.
"I travel not to go anywhere, but to go.
I travel for travel's sake.
The great affair is to move."
On Rovos rail, it is definitely the journey, not the destination. And the journey is one of platinum service, pampering, excellent food and wine. A surrender to the pace of a bygone era.  The time travel begins at the gracious colonial-style railway station, designed by Sir Herbert Baker in 1910 (and since revamped) the pivotal point for all Rovos excursions.  Delicate, crustless cucumber sandwiches and champagne in a beautiful 'drawing room' combine with seamless, discreet hospitality to set the stage.  Rovos is a family business and Brenda, Rohans' daughter welcomes us gives us a quick low down on the train.
There are 15 coaches on our train and each passenger is escorted to the cabin by a hostess. Walking into the cabin is like opening a particularly unexpected and delightful gift. Ours is a twin bed L-shaped cabin, spacious and the epitome of luxury with handsome wood panelling and period Edwardian features. The air-conditioned suites accommodate two people and are the most spacious in the world. A clever combination of 30's décor and modern technology means en-suite bathrooms, hair dryers, shaver plugs, full air conditioning and a mini bar fridge with 'survival' drinks (although there is a full list of drinks available on request).  A vanity kit has everything from mosquito repellent to suntan cream, ear plugs and a sewing kit.
There is even a pair of goggles (just once you have to lean out of the window and feel the wind through your hair – ask any dog, it's a must) Nooks, crannies and little compartments  ensure that the rock and roll of the train doesn't send anything flying. And of course there are two brass hooks for the obligatory Panama hats.
Although the trains no longer use steam, Rovos does provide a trip down memory lane by chuffing out of the station on steam and converts to electricity later.
As we roll slowly out of the station, the near century old cars start their rhythmic clackety- clack which morphs into a soft patter as you unwind and settle into a meditative cocoon.
Our train had a rake of 15 carriages which included a locomotive, staff car, two lounges, a 42 seating dining car (a second can be attached to accommodate 72 guests)and of course the guest sleepers.  These range from The Royal Suites, each of which take up half a carriage, each with its own private lounge area and full bathroom with Victorian bath and separate shower to the Deluxe Suites.
The Royal Suite
You are encouraged to put out the Please Make Up sign outside your cabin door as often as possible – three, four times a day and at night the beds are made up infinite care and charming, unexpected  touches.
A firm favourite amongst the guests was the outside observation deck adjacent to the bar as we trundled our way through Highveld through to the magical barreness of the Great Karroo, the rich and spectacular mountain ranges of the Hex River and the longest tunnel of 14km in South Africa.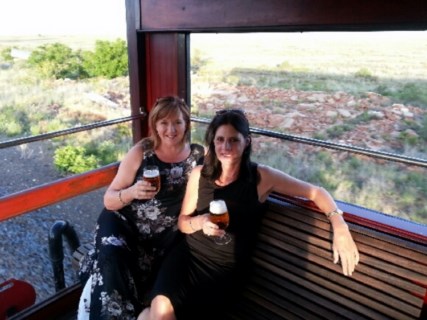 Here you can sit in the open sided carriage and fall into a relaxed and contemplative mood as you give up to the rhythm of the train and the escape from the rat race.
In the spirit of travel in a bygone era there are no radios or TV's on board and laptops, cellphones and anything else that might disturb other passengers has to be used in the privacy of your suite. It's a blessing.
Although the days are made up of fine service, excellent cuisine and the kind of attention to detail you rarely find, it is the opulently restored dining carriage that really transports one to another era.  A brass bong announces each meal beckoning you to a Victorian experience of fine china, crisp linen, silver service, mahogany tables and tassle tied draperies. To do the setting and cuisine justice, guests are requested to wear the appropriate attire for dinner. The selection of fine wines paired with each course and a host of attentive sommeliers and waiters ensure a fine dining and unforgettable experience.
Chef, Otto Hank, says  because of the small kitchen, the three chefs and three kitchen staff have learned a complicated culinary dance in the small space which minimises collision. The train can serve a maximum of 72 people from two kitchens.  Even though there is no choice of meals – there is still a great deal of waste. Rovos addressed the issue by assigning stops along the way where a designated local collects all the food and it is distributed fairly amongst the community. Amongst all the luxury and over indulgence it is heart warming.
Although we were reluctant to leave the train for even a moment, a stop in Kimberley and a tour of the diamond mine was worth the walk and heat The Kimberley diamond mine has one Kimberley has one of the best museums in the world and village of prospectors, shop keepers and barman are frozen in time.
Already the train feels like home as we board once again to continue through the Karoo, mesmerised by the beauty of its barrenness and the sunset, florid with Karoo dust.
The train continues through De Aar – one of the major railway junctions.  A chat with manager Joe Mathla reveals that the discreet service and gentle rhythm of the train belies the complicated logistics behind such a journey.   "The drivers, from Transet," he says,  "may not drive for more than 4 hours and two drivers are needed at a time. "Many of the drivers are used to carting freight and we have to constantly remind them that there are cocktails which mustn't be spilt," he laughs.
We stop in Matjiesfontein where we meet 'John' barman, entertainer and tour guide.  He gives a perfect 'Stevie Wonder' rendition on the piano before taking us on a tour of the hotel.  The man is a born entertainer and it is worth going back to Matjiefontein just to see him in action.
As we arrive in the Mother City, Table Mountain stands warm and welcoming and newly made acquaintances enjoy a last cocktail on the observation deck. The guests are relaxed, happy and have slowed to a mellow pace.  When we left the Jacaranda City we left behind life as we know it and stepped into an Alice in Wonderland of luxury travel, we left life behind as we know it. Not one of us missed it.
As you disembark and are greeted by owner, Rohan Vos,  Ernest Hemmingway's words come to mind, "It is good to have an end to journey toward; but it is the journey that matters, in the end."
For further information contact Rovos on:
+27 (0)12 315 8242
reservations@ rovos.co.za